| HOME | CONTACT | LINKS |

» Latest News


[ About Me ]

[ Local Bodybuilding Scene ]


Santa Sussana Pro 2007 Was A Learning Experience!
(30th Sept '07)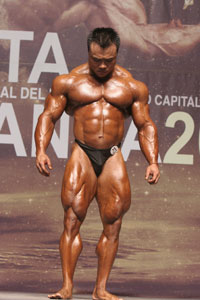 I went in the the best shape of my life at 102 kg (224lbs) full, big , symmetrical and conditioned but was only placed 16th out of 28 competitors. I didn't expect to finish so low but this is something that is beyond my control. Based on the results, the judges clearly favored mass over symmetry. When there were 28 perticipants on stage, it must be more likely for the judges to overlook any competitor.

From now onwards, I am not going to predict what place i will get (it's kind of foolish to do it as the results is out of my control) but instead I will continue to strive for excellence, that means I will come in better then before each time i step on stage.

What is more important to me is actually i came in much better than at the AU Pro in March. I am happy with the way i looked as I have gained almost 5kg (11lbs of ) muscles in 5 months evenly distributed thruout my body and my condition was on the spot. Ali Amini's diet and supplementation is great and the more i work with him the more he understands my body.

What I need now is perhaps to gain a few more lbs in the next one year (my target contest weight is 230lbs) and work more on muscle refinement especially on chest and shoulders and more also need tricep mass. I am not willing to sacrifice mass (beyond 230-235 lbs contest weight) for symmetry as I have to be careful not to get the infamous "GH gut" as I get bigger.

Overall it was a good contest and Santa Sussana is a beautiful place to visit!