| HOME | CONTACT | LINKS |

» Latest News


[ About Me ]

[ Local Bodybuilding Scene ]


FI Fitness One Is Launched On 1st September 2005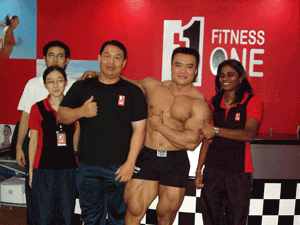 I am back in Malaysia , my native country for good, in March this year after more than 4 years in NYC. I worked extremely hard to earn my IFBB pro card in 2003 but had fun at the same time and learned a lot about fitness and bodybuilding when I was there. I was so glad to be back to see my family and long-time friends after being away for so long. My parents were shocked to see how much bigger I have gotten since they last saw me. I got so big that I had to buy a new bed because the old one did not fit me anymore!!

On the 1st of September 2005, I opened my fitness center (F1 Fitness One) in Kuala Lumpur, the capital city of Malaysia. It has always been my dream to own a gym since the first day I took up bodybuilding some 16 years ago. Since it has become a reality now, I want to use this opportunity to educate the general public from what I have learned as a pro bodybuilder and personal trainer in USA and my Masterís degree in Human Nutrition . I would love to see more people in Malaysia to live a healthy lifestyle by working out.

My gym business is doing great so far. If everything goes as planned, I will be looking for a new location for my first branch next year. I have a master plan of owning a chain of successful gyms throughout Malaysia and Asia in the next few years.

Many of you must be wondering if I still compete? Of course and as a matter of fact, I have been training hard as usual. I took one and a half year off from competing to get a little bigger and better and to venture into business. My last show was the IFBB Toronto Pro Invitational in June 2004 where I placed 13th. That was my third pro show and I was beginning to get noticed by the judges and that was a good sign!! . I am planning to do some shows next year to improve on my pro rankings.

My current bodyweight is 250 lbs, lean . I am going to do for the Australian Pro show in March 2006 . I want to come in with a even better package this time around. I will keep you guys updated with my preparation for my next show. My goal is to qualify for the Mr.Olympia. I believe I have what it takes to be one of the best bodybuilders in the world!

Go to the VIP members section to see my latest pictures and video clips. Tons of new pictures and clips have been taken in Malaysia in the last few months just for my fans to view and enjoy! Thank you and happy training. Cheers!!!