I am making this statement to reinforce my previous Statement which I gave to the ABBF and WBPF early this year.
Please do not be misled by the offer of pro-cards being offered to you. As an Asian you will reach nowhere. You have to spend too much money and time to become a pro bodybuilder but where do you go in the end. Look at my physique and my life, I suffered too much under the IFBB iron-fist control, they used me for their benefit. I realised my mistakes and made a return to amateur competitions where I enjoyed meeting bodybuilders and officials and exchanging notes with them.
The Asian Bodybuilding and Physique Sports Federation (ABBF) and the World Bodybuilding and Physique Sports Federation (WBPF) are the only legitimate organizations which takes care of us.
I understand that the IFBB is giving pro-cards to our Asian athletes to buy them over. How much can you earn per year? Think of all the sufferings and the hold they have on you. You will live in isolation.
I am giving this statement on my own free will as I want to drive this message across to all bodybuilders in Asia to be aware of the dirty tricks and ploy of the IFBB stooges who are going around to seek support to destroy the ASIAN UNITY.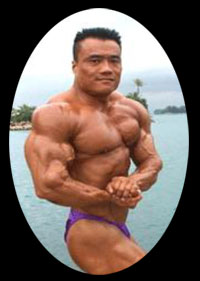 Wong Hong
Asia Championion Bodybuilder and ex-pro athlete
Malaysia